Call for ONE NIGHT STAY EXCEPTIONS to our 2 night minimum
Two-One-Two-475-8223
​
Introducing The Abbey Room & The napping nook 2018
$225 (Nook option for 3rd guest $75)
(deposit is fully refundable up until thirty days before arrival)





"We were so at ease in your surroundings"

"A group of us rented the whole chapel for 3 days over New Years, and it was spectacular. For one, the place is breathtaking and incredibly unique. We found everything set up with care - even an apple cobbler waiting for us in the oven! Peter and Julie were incredibly helpful and patient with any questions we had while they were away. While there were 10 of us staying there, it never felt overcrowded while we were hanging out in the house. "

- Allison

---

"We loved everything about our stay with Julie, Peter and Mathew. They could not have been more accommodating or helpful to us Scottish and English guests. We were very impressed . It was a privilege to see and hear you both working in your unique home. The space was just what we needed for the graduation celebration and we loved the fact that we could make your beautiful rustic house our very own for a few days. Thank you all so very much. " - Mona
The Chapel Room (Sleeps 3)


Armoire, writing desk, courtyard view
double bed and single $175-195*
* tax not included (2 day minimum) Check in 4PM & Check out 11AM
Note: Both Chapel and Des Artistes Bedrooms are on the 2nd floor & each have a private bathroom on the ground floor.

The Library Room & The Abbey room on the ground floor have en suite bathrooms.

"Fantastic hosts and space. Everything is so artfully arranged, from a rose petal in the breakfast yogurt bowl to fresh roses in your room. Julie's art is radiant against the serene, eclectic backdrop of their home. Peter's convo is honest, deep and thought-provoking. I caught a glimpse of where Julie appears to iron the sheets for guests with a scented starch - how cool is that? Breakfast was a local duck egg frittata AND hot coffee AND bread pudding, which we really appreciated!! They shared a neighborhood place for a great milk stout too, and even gave us an umbrella to walk around that evening. Really terrific stay!"

​

Master Bedroom Des Artistes
(Sleeps 2) Queen Bed, reading couch
$175* tax not included
(2 day minimum) Check in 4PM & Check out 11AM
​


"Unique experience with amazing hosts! Peter and Julie were some of the most genuine and welcoming people. From the moment we walked in the door we felt taken care of. Amazing decor, fantastic rooms that are one of a kind and a unbelievable homemade breakfast with local ingredients. Looking forward to returning back in the sumer!"



The Library Room Retreat
$195 *tax not included
Sleeps 3
(queen sized bed and single bed, en suite full bathroom)
Check in 4PM & Check out 11AM

"If all you want are clean white sheets, abundant towels, scrumptious breakfasts, coffee and tea, and a beautiful interior, you'll be satisfied. But on top of that Peter and Julie are exceptionally gracious and graceful hosts whose artistry infuses the entire place, and whose conversation is a kind of tonic. Hurray for them and you if you're lucky enough to stay here."

Book Church Des Artistes !


Church Des Artistes Property Rental Sleeps 8-14
Full Kitchen
Five full bathrooms
& Church Hall
$775 per night
$20 per guest additional after 8 people Tax & $275 cleaning fee not included .
3 Day minimum rental. 50% Deposit fully refundable up until 45 days before check in. $300 refundable damage deposit required
(2 day rental exceptions permitted @ $1075 per night)
Check in 4PM & Check out 11AM

Event Space: The Church Hall & Kitchen

The Church Hall and kitchen are available for rental for workshops and events. For inquiries email us at :

info@churchdesartistes.com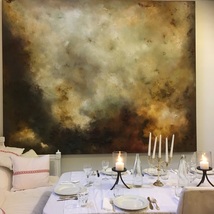 ADDITIONAL REVIEWS BY OUR ESTEEMED GUESTS


"Fantastic hosts and space. Everything is so artfully arranged, from a rose petal in the breakfast yogurt bowl to fresh roses in your room. Julie's art is radiant against the serene, eclectic backdrop of their home. Peter's convo is honest, deep and thought-provoking. I caught a glimpse of where Julie appears to iron the sheets for guests with a scented starch - how cool is that? Breakfast was a local duck egg frittata AND hot coffee AND bread pudding, which we really appreciated!! They shared a neighborhood place for a great milk stout too, and even gave us an umbrella to walk around that evening. Really terrific stay!"
- Brittany & Jeff

"Perfect weekend getaway. Went to the Hudson River Valley for my girlfriend's birthday - checked out Olana and Storm King, both incredible - and then headed over to Church Des Artistes. The church has all kinds of character, authenticity, a beautiful setting. When we walked in through the front gates that evening to check in, there were candles in the courtyard and wine glasses out. We slept well in the bed and then woke to an amazing morning in the courtyard for breakfast with Peter and his wife. Locally sourced, homemade, plenty for all, "have seconds!", etc...on point. Very nice, and talented, people - . Highly recommend."
- Gregg

"Church des Artistes is nothing less than magic. Staying in this beautiful retreat is enough reason to drive upstate. We walked up at night to Peter and his friends playing music in the candlelit courtyard and soon Julie was showing us to our beautiful bedroom. They made us so welcome and perfectly at ease and pointed out where we could go in town before everything closed for the night and left out wine glasses before they went to bed so we could enjoy our bottle of Rosé in the courtyard when we got back. The next morning they made us a lovely breakfast and gave us a tour of their studio and the rest of the converted church before sending us on our way. I cannot wait to visit the Hudson Valley again and will definitely be staying here. Perfection."
- Elliot

​
---